Here is a selection of valuable books on writing children's books and publishing them. Most links are for more info at Amazon.com, an affiliate. For folklore reference, see A Storytelling Bookshelf.
Market Guides
Children's Writer's & Illustrator's Market, Writer's Digest, annual. Addresses, contact names, and submission guidelines for U.S. book publishers, magazines, and almost anything else you might be looking for. Also includes much practical advice about the business of writing, plus interviews with prominent people in the field. If you want to buy a market guide, this is it.
Children's Writers' & Artists' Yearbook, A&C Black, annual. The market guide for the U.K. (The link goes to Amazon UK, but the book sells also on Amazon.com.)
The Canadian Writer's Market, McClelland & Stewart, annual. The market guide for Canada. (The link goes to Amazon Canada, but the book sells also on Amazon.com.)
Writing Guides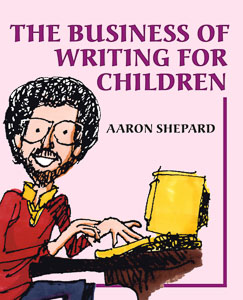 The Business of Writing for Children: An Author's Inside Tips on Writing Children's Books and Publishing Them, or How to Write, Publish, and Promote a Book for Kids, by Aaron Shepard, Shepard Publications, 2000 (updated 2013 and 2015). My own book for children's writers.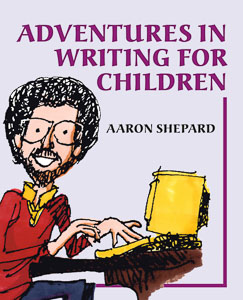 Adventures in Writing for Children: More of an Author's Inside Tips on the Art and Business of Writing Children's Books and Publishing Them, by Aaron Shepard, Shepard Publications, 2015. A second volume of mine.
The Complete Idiot's Guide to Publishing Children's Books, by Harold D. Underdown, Alpha Books, 2008 (third edition). Essential reading! Harold is a prominent editor of children's books and ebooks. After reading my book for an overview and some special tricks, read Harold's for the details.
Writing Children's Books for Dummies, by Lisa Rojany Buccieri and Peter Economy, Wiley, 2012 (revised edition). Another detailed look at the field. Not as good as Harold Underdown's (above) for publishing info, but very good for writing.
It's a Bunny-Eat-Bunny World: A Writer's Guide to Surviving and Thriving in Today's Competitive Children's Book Market, by Olga Litowinsky, Walker, 2001. By a prominent children's book editor. Editors almost always know more about the business than writers do!
The Art of Writing for Children: Skills and Techniques of the Craft, by Connie C. Epstein, Archon, 1991. By a children's book editor and the publisher news columnist for the SCBWI Bulletin.
How to Write a Children's Book and Get It Published, by Barbara Seuling, Wiley, 2004 (third edition). A good general introduction.
Writing Books for Young People, by James Giblin, The Writer, 1995 (revised edition). By a children's editor and author, with a specialty in nonfiction.
The Way to Write for Children, by Joan Aiken, St. Martin's, 1982. A quirky and inspirational classic. By the author of The Wolves Chronicles series and much more.
Take Joy: A Book for Writers, by Jane Yolen, The Writer Books, 2003. Advice from a prolific and versatile children's author with specialties in fantasy and folklore.
How to Write and Sell Children's Picture Books, by Jean E. Karl, Writer's Digest, 1994. A good introduction from a writer's standpoint, by a venerable children's book editor.
Writing with Pictures: How to Write and Illustrate Children's Books, by Uri Shulevitz, Watson-Guptil, 1985. An approach to the picture book, by one of the foremost writer-illustrators today.
How to Write, Illustrate, and Design Children's Books, by Frieda Gates, Library Research Associates, 1986. For illustrators and writer-illustrators. Detailed, specific, and practical.
The Writer's Guide to Crafting Stories for Children, by Nancy Lamb, Writer's Digest, 2001. An extremely helpful guide to constructing chapter books and novels.
Writing for Young Adults, by Sherry Garland, Writer's Digest, 1998. By a popular young adult author.
The Elements of Style, by William Strunk, Jr., and E. B. White, Allyn & Bacon, 1999 (fourth edition). How to write simply and directly. This classic should be an early read for almost every children's writer.
The Comic Toolbox: How to Be Funny Even If You're Not, by John Vorhaus, Silman-James, 1994. Helps develop your comic sense by providing patterns and models. The chapter "The Comic Throughline," though focused on screenplays, applies as well to the structure of novels and is alone worth the price of the book.
Publicize Your Book!: An Insider's Guide to Getting Your Book the Attention It Deserves, by Jacqueline Deval, Perigee, 2008 (revised edition). Unlike most books on book promotion, this is written by someone who has actually worked in publicity departments of major publishers. Not everything described here will be possible for children's authors, but Deval gives much excellent advice, including how to get the most from your publisher without wearing out your welcome.
Terrific Connections With Authors, Illustrators, and Storytellers: Real Space and Virtual Links, by Toni Buzzeo and Jane Kurtz, Libraries Unlimited, 1999. On school visits and other author interactions, both live and online. Geared toward teachers and librarians but valuable for authors too.
How to Capture Live Authors and Bring Them to Your Schools, by David Melton, Landmark Editions, 1986. Though meant for schools that are organizing author visits, this can also help authors know what to expect and what to ask for.
Writer Reference
The Synonym Finder, by J. I. Rodale, Warner Books, 1986 (revised edition). Every writer needs a thesaurus to help find the best choice of words. But if you're using any thesaurus other than this one, chuck it. Rodale's is so far ahead, there really isn't any competition. More than 1,000,000 synonyms!
Merriam-Webster's Standard American Style Manual, Merriam-Webster, 1994. Style manuals contain rules for punctuation, capitalization, grammar, and so on. Each publisher uses a particular style manual to ensure consistency within and among its publications, and editors follow them religiously. The Merriam-Webster is the best for writers because it is aimed at general use rather than at professional editors. For instance, instead of telling you just one way to do things, it tells you the rules as most often followed by today's editors, then notes all common variants. You'll also find descriptions of proofreading symbols, editorial processes, and more. Studying this manual will help make your submissions more professional and easier to edit—which makes you look good!
Miscellaneous
The ABCs of Writing for Children: 114 Children's Authors and Illustrators Talk About the Art, the Business, the Craft & the Life of Writing Children's Literature, edited by Elizabeth Koehler-Pentacoff, Quill Driver Books, Sanger, California, 2003. Snatches of advice, gossip, and anecdotes from numerous authors and illustrators worth listening to (including yours truly). Highly recommended!
Welcome to the Lizard Motel: Children, Stories, and the Mystery of Making Things Up: A Memoir, by Barbara Feinberg, Beacon Press, 2005. Must reading if you're writing or thinking about writing realistic children's novels.
Invitations to the World: Teaching and Writing for the Young, by Richard Peck, Dial, 2002. Provocative musings by one of our finest young adult novelists.