Here are the most valuable books I've found on the Golem, the man of clay who appears in Jewish legends. Most links are for more info at Amazon.com, an affiliate.
Translations
Great Tales of Jewish Fantasy and the Occult, edited and translated by Joachim Neugroschel, Overlook Press, Woodstock, New York, 1997; published originally as The Great Works of Jewish Fantasy and Occult, 1976. Includes what I believe is the only English translation of what has been the main source of the Golem legend for modern retellers: "The Golem," by Yudl Rosenberg, itself a retelling published in Yiddish in 1909.
Mimekor Yisrael: Classical Jewish Folktales, Vol. 1, collected by Micha Joseph bin Gorion, edited by Emanuel bin Gorion, translated by I. M. Lask, Indiana University, Bloomington and London, 1976. Includes several short Israeli folk legends about the Golem of Prague.
Retellings
The Golem, by Isaac Bashevis Singer, Farrar, Straus, Giroux, New York, 1982. My favorite Golem retelling, with Singer's usual charming touch.
The Golem: The Story of a Legend, as told by Elie Wiesel, translated by Anne Borchardt, Summit Books, New York, 1983. A good, straightforward retelling.
Golem, by David Wisniewski, Clarion, New York, 1996. A Caldecott Medal picture book.
The Golem: A Jewish Legend, by Beverly Brodsky McDermott, Lippincott, Philadelphia, 1976. Another fine picture book retelling.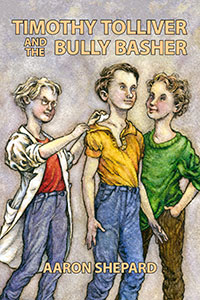 Timothy Tolliver and the Bully Basher, by Aaron Shepard, Skyhook Press, 2005. My own humorous retelling of the Golem legend, set in a modern American elementary school.
Background
The Golem Legend: Origins and Implications, by Byron L. Sherwin, University Press of America, Lanham, Maryland, 1985. A short scholarly discussion of the development, diversity, and relevance of the Golem legend.
The Golem Remembered, 1908–1980: Variations of a Jewish Legend, by Arnold Goldsmith, Wayne State University, Detroit, 1981. A scholarly look at the many appearances of the Golem and of Golem-inspired figures within popular Western culture.
Understanding Jewish Mysticism: A Source Reader, edited by David R. Blumenthal, Ktav Publishing House, New York, 1978/1982. Includes Blumenthal's translation with commentary of the Sefer Yezirah, the brief Kabbalistic classic used to bring to life the Golem of Prague.