Here are the most valuable books and other offline resources I've found on Robin Hood, the legendary outlaw of Sherwood Forest. Most links are for more info at Amazon.com, an affiliate.
Sources
Robin Hood and Other Outlaw Tales, edited by Stephen Knight and Thomas Ohlgren, Western Michigan University, Kalamazoo, Michigan, 2000. All the best early texts of ballads and plays about Robin Hood.
Retellings
The Merry Adventures of Robin Hood, by Howard Pyle, Dover, New York, 1968. The most famous retelling of the legend, first published in 1883. Respectfully based on early popular ballads, in which Robin is merely a common man turned outlaw.
The Adventures of Robin Hood, by Roger Lancelyn Green, Penguin, London, 1956. A good example of the "alternate" Robin Hood, based on plays, movies, and novels that later showed him as a fallen nobleman.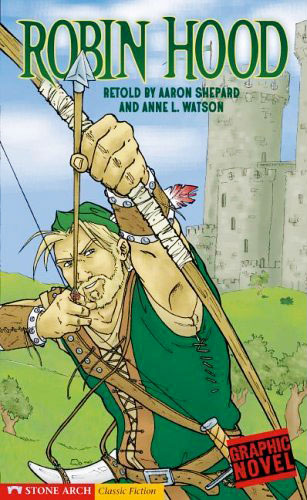 Robin Hood, retold by Aaron Shepard and Anne L. Watson, Stone Arch, Mankato, Minnesota, 2006. A graphic novel retelling of my own and my wife's. (A graphic novel is a book-length comic.) Despite a few real gaffes introduced by the editors, I think you'll like it. The climax, cooked up by Anne from a blend of traditional elements, is a major contribution to the Robin Hood genre.
Background
Robin Hood: A Mythic Biography, by Stephen Knight, Cornell University, Ithaca, New York, 2003. On the evolution and permutation of the legend from its beginnings to the present day.
Movies
Robin and Marian, directed by Richard Lester, Columbia, 1976, 107 minutes. Though the Errol Flynn classic is considered the standard, I found this to be by far the most enjoyable and intelligent of any of the Robin Hood movies, full of wit and insight. Actually a sequel to the legend, it features Sean Connery and Audrey Hepburn as the older, if not wiser, Robin and Marian.